Paul Chan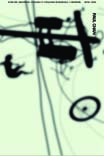 CONTENTS:
Prologue by David Neuman, Director Magasin 3 Stockholm Konsthall
The 7 Lights, essay by Daniel Birnbaum, Associate Curator Magasin 3 Stockholm Konsthall and Director Portikus
A Critical Feverish Dream, essay by Elisabeth Millqvist, Assistant Curator Magasin 3 Stockholm Konsthall
---
Exhibition catalogue no 35
No of pages: 64, color, illustrated
Binding: soft cover
Graphic design: Fellow Designers

Language: Swedish, English and German
Year: 2006
Publisher: Magasin 3 Stockholm Konsthall and Portikus Frankfurt am Main
ISBN: 91-974236-9-6

Available for purchase in our museum entrance for 300 SEK (approx. 30 EUR)
---
EXCERPT:
A Critical Feverish Dream by Elisabeth Millqvist
"I prefer to be on my own," was the first thing Paul Chan said when we met in Stockholm in April. He shares this sentiment with Henry Darger and Charles Fourier, the two individuals on whose work he has based his own work – Happiness (Finally) After 35,000 Years of Civilization (after Henry Darger and Charles Fourier), a video animation teeming with details and vivid colours, projected on an oblong framed canvas suspended in space.
HENRY DARGER (1892 – 1973) was a recluse who devoted enormous efforts to an unbelievably extensive illustrated work. His drawings were discovered towards the end of his life, and were probably not intended to be seen by others. The work comprises 12 bound volumes, a total of 15,000 pages. He also wrote a 5,000-page account of his own life, which mainly concerns an oncoming tornado, and kept a weather diary over ten years. The 15,000-page epic, both written and illustrated by Darger himself, bears the long title The Story of the Vivian Girls, in What is Known as the Realms of the Unreal, of the Glandeco-Angelinnian War Storm, as caused by the Child Slave Rebellion.
The super-heroines, the Vivian Girls, are fighting on the side of the children against child slavery. A violent war ensues. Like the Spanish painter Goya's account of the horrors of war, Darger delivers a detailed account of atrocities, how children are strung up, strangled and sometimes disgorged. Except for the enemy, the Glandelians, all the characters are girls. They are always children, sometimes nude, in which case they are depicted with penises. The weather is dramatic in Darger's drawings, hurricanes and earthquakes afflicting the characters. The drawings are rectangular and give a cinematic impression. The figures are copied from photos, advertisements and magazines and reused several times over. The textual material is also partially culled from existing literary sources. Darger's work method is similar to that of many other artists today who employ sampling, detailed imagery and narrative elements. (…)