Magasin III Jaffa Books
17 Olei Zion
6802547 Tel Aviv-Yafo
Ph ‭+972 3-9499200‬
jaffabooks@magasin3.com
Opening Hours
Thursday 2pm – 8pm
Friday 10am – 2pm
About Magasin III Jaffa Books
Magasin III Jaffa's unique bookstore focuses on regional artist books. The bookstore, located across the street from Magasin III Jaffa, is an integral part of its activities.
---
The Vitrine
In Magasin III Jaffa Books' storefront we present a series of condensed exhibitions created by artists from the area.
Michael Liani
N/A
2023
Negative injekt, 111 X 108 cm
In his new work for Magasin III Jaffa Books Vitrine, N/A, Michael Liani exhibits a photo displaying four objects. Two hands and two prayer chains. At the end of each prayer chain hangs a logo, one that can be recognized even before the figure itself is absorbed. Nike/Adidas. Using only these four elements Liani exposes us to a collection of possibilities through which one can examine the world around us. Black/White, East/West, Holy/Secular, Art/Consumerism. Using humor to gently push us out of our comfort zone, Liani propels us to carefully review how deeply we consider our daily choices.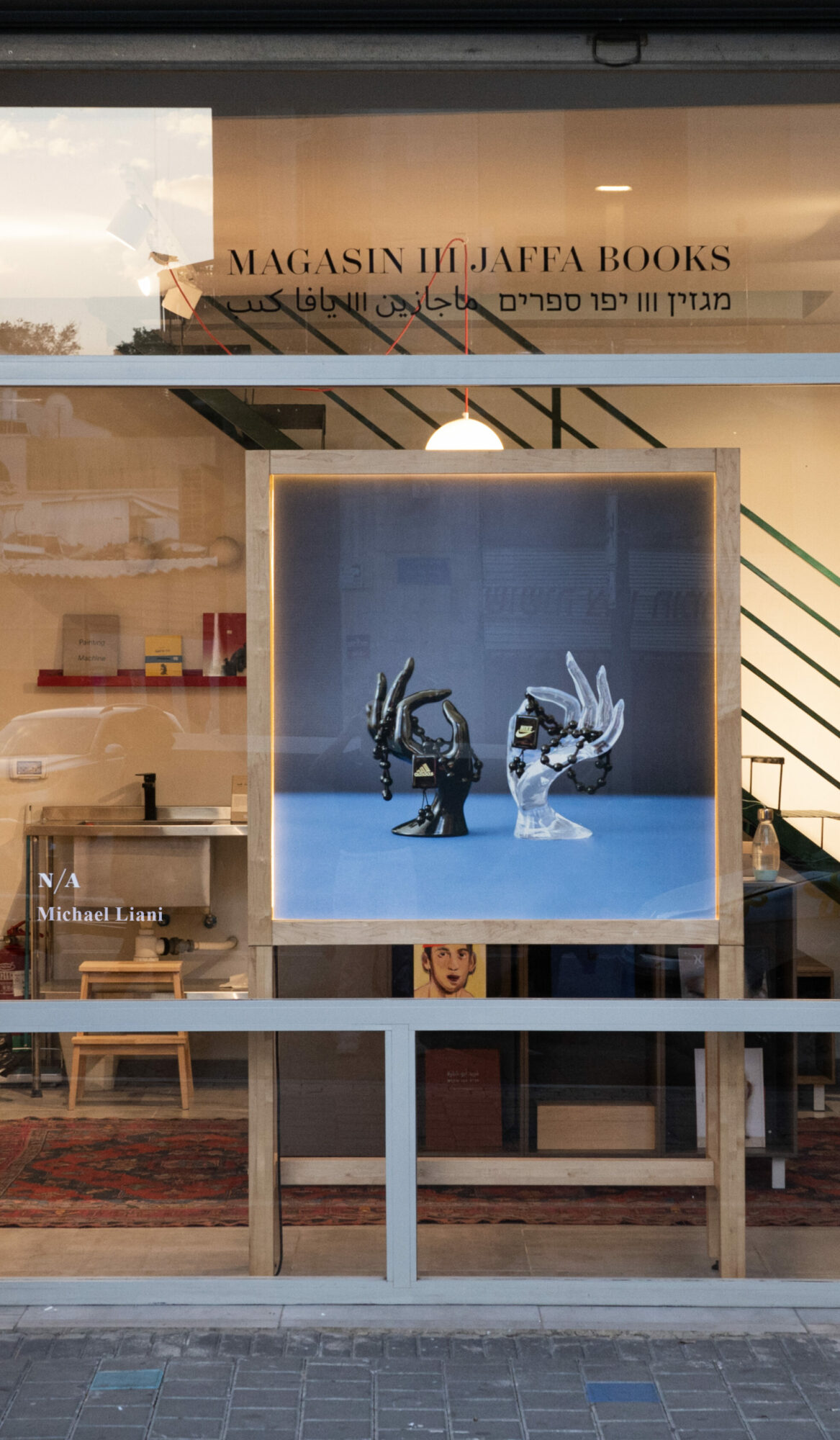 ---
Previous Events
View our previous events at the bookstore
---
About Magasin III Jaffa
Magasin III Jaffa is an exhibition space, a permanent satellite established by Magasin III Museum for Contemporary Art from Stockholm, Sweden. Magasin III Jaffa's diverse program features both local and international contemporary artists. Since opening at 2018, Magasin III Jaffa has presented solo exhibitions by Haim Steinbach, Shiela Hicks, Cosima von Bonin, Tal R, Maya Attoun and Polly Apfelbaum. The space is located on 34 Olei Zion, in a residential neighborhood rich with history and cultural diversity, that borders with Jaffa's famous flea market. Magasin III Jaffa's unique architecture enables passersby to view the exhibitions from the outside, day and night.
About Magasin III Museum for Contemporary Art
The museum is one of Europe's leading institutions for contemporary art. Magasin III believes in the ability of art to challenge and inspire people and society. Since 1987, Magasin III has presented world-class exhibitions and continues to fortify its collection, which holds works by leading artists. Recent highlight exhibitions in Stockholm include Tom Friedman, Katarina Grosse, Tony Oursler, Mika Rottenberg, Ai Weiwei, Andrea Zittel and Gunnel Wåhlstrand.
---